Slider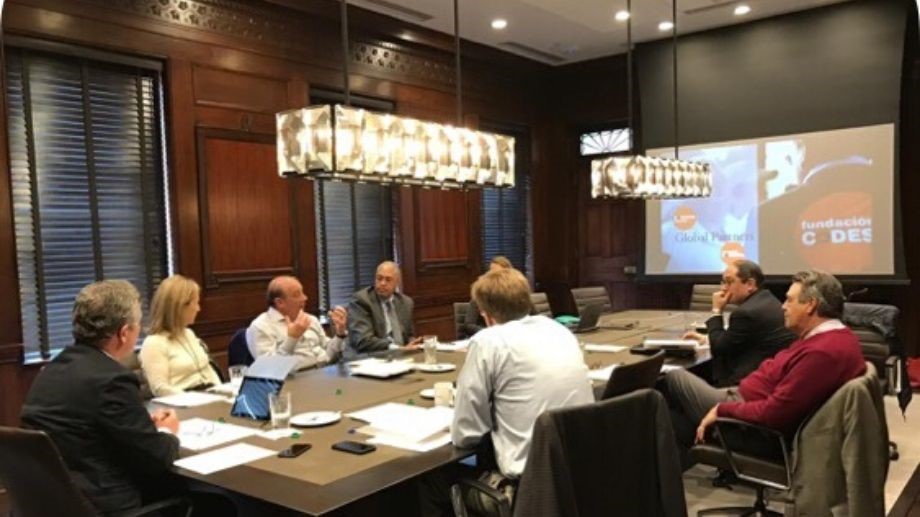 Files
Bob ZULANDI
Chairman, Board of Directors
Bob is a seasoned executive with more than 40 years of experience leading profitable natural gas, renewable, coal and power generation companies. Educated at Manhattan College (B.S.in Economics | Honors) and receiving an MBA from Columbia University, he began his career with roles in mergers and acquisitions and business development at Shell Oil and General Electric. He went on to executive leadership positions in the energy industry.
Rod NYDAM
Secretary, Board of Directors
Rod is the founder of the law firm, Nydam Law, and has over twenty-five years of experience as a corporate attorney including over seventeen years of experience in large international law firms including Howrey LLP and McGuireWoods, LLP, Jones Day, Reavis & Pogue, and Rogers & Wells (now Clifford Chance). He has worked with a variety of industries including energy, defense, real estate, high technology, hospitality, telecommunications, construction, health care, development finance, homeland security, serving as legal counsel.
Mario DE CASTRO
Treasurer, Board of Directors
Mario is a business and tax advisor to multinational public, privately owned companies, and investment funds (and their portfolio companies) operating internationally. He has been practicing in the area of international tax and corporate/business consulting and law for over 20-years. He is currently Managing Director in Crowe LLP's international tax services practice in Washington, D.C.
Jose Ignacio GONZÁLEZ-ALLER GROSS
Sole member, Board of Directors
Jose Ignacio is the long-standing and current CEO of Fundación CODESPA. He holds a Master's in Civil Engineering at Universidad Politecnica de Madrid and General Management Program (GMP) degree from IESE School of Business in the Universidad de Navarra, Madrid.
Shailee ADINOLFI
Member, Board of Directors
Shailee is a Director of Government and Trade at ConsenSys. Prior to joining ConsenSys, she was Vice President at BanQu Inc., an ethereum based identity platform, and spent over 11 years on USAID funded projects in economic growth, trade, financial services and technology in Africa, Asia and the Middle East. She holds a BA in Business Administration and MA in International Affairs from American University.
Max PRIMORAC
Member, Board of Directors
Max has served in senior executive positions managing large organizations and high profile initiatives, counseling global firms on business strategy, and leading nonprofits addressing humanitarian, development and governance crises. Recently he was Chief Operating Officer at the US Agency for International Development after launching the Agency's Bureau for Humanitarian Assistance. He was also Envoy of the Vice-President of the United States to Iraq for genocide recovery. He has worked in Europe, Middle East, Latin America, Africa and Asia. He holds degrees from Franklin & Marshall College and the University of Chicago.
Seema ALEXANDER
Member, Board of Directors
Seema is the Founder & Chief Strategy Officer of Disruptive.CEO and Creator of the U.N.I.Q.U.E MethodTM. With over two decades of experience as a business strategist and chief marketing officer, Seema partners with growth-stage founders/CEOS to accelerate their impact and profit through her proven "U.N.I.Q.U.E" Method framework that has resulted in enhanced business and brand authority, millions of dollars in revenue, and unmeasurable impact that her clients have made through scaling their businesses around the world. She is on a mission to serve the growth of 100,000 female entrepreneurs through her framework by 2025.
Roland HAWTHORNE
Member, Board of Directors
Roland has more than 30 years of professional experience in development, management and consulting in real estate, healthcare, the insurance industry and the energy sector. As a serial entrepreneur, he has had extensive experience with start-up companies in each of these industry sectors. Having founded FRN International Trading Partners Ltd. (FRN), Roland serves as the company's Chairman. The company was created with the purpose of becoming a leading global organization in the oil and gas sector, and agriculture industry. Its mission is to provide viable solutions to issues nations face over food security and energy security concerns.
William MOSS
Member, Board of Directors
Bill is an experienced and fully bicultural entrepreneurial leader in technology-intensive businesses, with a strong management background that includes high-tech start-ups as well as mature companies in the U.S. and Latin America. Currently, since 2005, Bill is President and CEO of Cobis Systems Corporation, Inc. (Cobiscorp), a 60+ year-old firm with 600+ employees that develops and markets mission-critical information processing solutions used by many financial institutions throughout the Americas.
Carlos PADULA
Member, Board of Directors
Since 2007, Carlos is Co-Founder and Managing Partner at Stelac Advisory Services, LLC. He has over 28 years of experience in market analysis, investment banking and wealth management. Carlos joined Deutsche Bank in 1994 and since 2000 he was Managing Director of Private Wealth Management and the Latin American Market Head and Chief Executive Officer. He was also Deutsche Bank's New York International Office Head.
Damian VON STAUFFENBERG
Member, Board of Advisors
Damian is the founder of MicroRate, the world's first rating agency dedicated to evaluating performance and risk in microfinance institutions and microfinance investment vehicles. As the oldest and most well-respected organization of its kind, MicroRate has also become the largest MIV evaluator in the industry. Before dedicating himself to microfinance, Damian worked for 25 years in the World Bank and its private sector affiliate, the International Finance Corporation (IFC).
Eugene McCARTHY
Member, Board of Advisors
Eugene's experience of 43 years in the World Bank makes him a seasoned professional and a fully bilingual and bicultural expert in Latin America and international development. He served the bank from 1972-1999, working in multiple managerial positions in bank operations and as resident representative to Mexico from 1991-1994. He further served the bank since 2000 to the present in numerous consultancy capacities on development assignments with the African Development Bank, the Asian Development Bank as well as the European Union.
Rolando ARRIVALLAGA
Member, Board of Advisors
Rolando is a former World Bank economist with broad experience in structural adjustment, financial sector reform and development credit. He has over 30 years' experience in development work covering several countries in Latin America and Asia. He worked for the World Bank for 28 years, retiring as Manager in the Co-financing and Trust Fund Department and as a member of the World Bank's Resource Management Board.